Overview
From the very beginning of your web hosting journey with Shinjiru, we want to provide you with a hassle-free experience. Our migration experts can migrate your websites as easy as 1, 2, 3! We are here to solve all your hosting migration issues and doubts. Our experts can handle any migration!
Detailed pre-migration analysis of your needs.
Complete migration of web files, databases and emails*.
Prompt assistance with DNS changes and/or domain transfer.
Ability to choose date of migration to avoid the peak hours.
After migration testing to ensure 100% satisfaction choice.
Completely FREE migration services.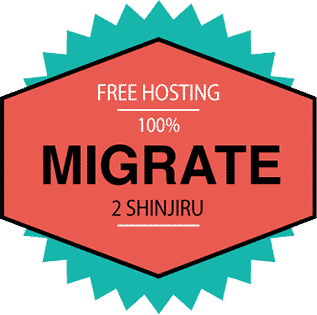 4 Easy Steps to

Migrate2Shinjiru
FREE Expert Migration Services for a trouble-free switchover!
FREE Hosting based on prepaid payment to existing provider!
24/7 Live Support and 99.99% Uptime to guarantee peace of mind!
Pre-and-Post migration assistance to ensure a successful migration!
Migrate2Shinjiru

For Shared Hosting Users!
The basic concept of Migrate2Shinjiru is to assist you in switching to our services, for a reliable web hosting service, with a transfer process that is hassle free and free of charge. If you are having any issues with your existing hosting provider and you lack the expertise in moving out your website, do not worry. Our professional migration team will migrate your website to Shinjiru swiftly. Contact us via
Skype: Shinjiru121
or
Wickr: Shinjiru121
Terms & Conditions
Migrate2Shinjiru offer is only applicable for migration to our Shared Hosting packages.
Expert Migration services are completely FREE for all the new hosting transfers. No hidden charges involved.
Domain transfer fees are applicable if you are transferring the domain to us. However, these charges will be used to extend the expiry date of your domain for 1 year.
After the migration your hosting period will be extended ONLY once the supporting documents have been submitted to us. You are required to provide the proof of payment for the existing hosting package in order for us to calculate the extension period.
To enjoy Migrate2Shinjiru Promotion offer you need purchase a Shared hosting package for a minimal period of 1 year.
FREE Migration is for website below 5GB and it is on best-effort basis.
Migrate2Shinjiru

NOW!

RELIABILITY AND HIGHEST UPTIME
Frequently Asked Questions
1. Why should I choose Shinjiru?
If you are looking for a new hosting solution and opportunity to experience the most reliable option on the market – choose Shinjiru!
Our Hosting experts will provide you a consultation to help you identify the best hosting plan to fit your needs.
Our expertly-crafted packages are able to fit any web hosting needs.
Our expert migration team has successfully performed thousands of migrations and know all the fail-proof methods to do it with NO downtime
The migration will be performed completely FREE of charge.
Migrate from any dedicated server, cloud, shared hosting or VPS to any web hosting package of your choice.
Migrate web & static files including your databases.
Migrate apps such as Content Management System (CMS) and custom apps.
Upgrade and host your databases on MySQL and MsSQL.
3. How long will the migration take?
We know how important it is for you to get everything up and running in the shortest timeframe. We assure you a swift migration, in less than 24 hours!
We are able to perform the migration with NO DOWNTIME. Bear in mind, domain propagation will take up to 12 hours.
Choose the time and date convenient to you to minimize the impact of propagation on your visitor experience.
4. What information should I provide?
Experienced in web hosting or not too tech savvy? Provide us your login details (Control Panel, Username & Password) and the domain name and we'll take care of the rest for you!
5. Is it safe to provide you my login details?
We can assure you that all your sensitive information will only be used to complete the migration and will be kept classified. Your personal details will not be misused in any way.